Geriatric Care
GERIATRIC/PALLIATIVE CARE CENTER
The objective of the geriatric care initiative is to take care of the elderly who are sick and cannot fend for themselves by providing in-house care and attention at our center and relieving their families through comprehensive assessment and treatment of physical, psycho-social, symptoms faced by them.
Our palliative care center aims at providing a peaceful and comfortable life to the terminally ill people.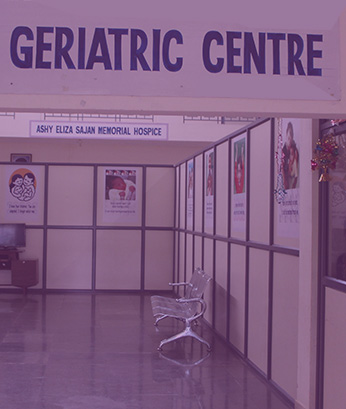 Services rendered through the Geriatric/Palliative Care Center
Medical services of a multi-disciplinary team of doctors, nurses, therapists, aides, and counsellors
Control of pain and other symptoms
Psycho-social support
Counseling, grief and spiritual support
Empowering and supporting the family
Providing bereavement support.
Special features of the Geriatric/Palliative Care Center:
Managed by St. Gregorios Dayabhavan, a pioneer institution engaged in providing service to destitute children and palliative care for terminally ill for the last fifteen years.
Enables people in meeting emotional, social and spiritual concerns.
Conveniently located at Kunigal, 70 km away from Bangalore off the Hassan-Mangalore highway.
24-hour Ambulance facility
Completely secure infrastructure with 24-hour CCTV surveillance.
Prayer and meditation hall
Clean living environment—10 acres of greenery and fresh air—with soothing atmosphere to calm the nerves and drive worries away.
Balanced and nutritious diet (organic diet food, poultry, and milk products from our own farm)
Facilities for yoga, physiotherapy, and group events.
For More Details Contact:
Co-ordinators
+91 9964 939638, 9741391030, 09448476773