The Story...
The story of Dayabhavan is not an ordinary run, but a saga of compassion and commitment. St. Gregorios Dayabhavan was inspired by the dreams of HG Mar Osthathios Metropolitan; it's founder president. Dayabhavan Literally meaning 'The Home of Compassion' was established in 2003. HG Dr. Yuhanon Mar Chrysostomos Metropolitan and Very. Rev. K. I. Philip Remban were the founding leaders who had the common vision for a Home dedicated to the needs of children whose parents were infected with HIV/AIDS. Mar Chrysostomos, during his service (as Yuhanon Remban) at the Karunya Guidance Centre in Thiruvananthapuram, along with Fr. Jinesh. K. Varkey (who was serving as the Manager at Karunya) had this painful experience of meeting a little boy and his infected family. The boy, who was not able to secure admission in any of the educational institutions due to his parents' HIV status, used to visit the Yuhanon Remban quite often. This incidence caused great distress to the Remban that he decided to have something done to save such children from being led astray from family and society by circumstance, vulnerability, and ignorance.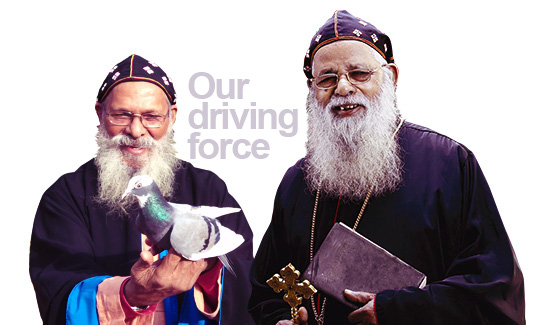 During a Mission Board meeting held at the St. Paul's Mission Training Centre (MTC), Mavelikkara, the Patron HH Baselios Marthoma Mathews II nominated Philip Remban as the Project Director of constructing a Home for the affected children of HIV/AIDS infected parents. It was Philip Remban, then the Mobile Director of the Mission Board, who gave wings to the dream of Yuhanon Remban. When he received theCatholicate Awardfor services to the community, Philip Remban dedicated the entire prize money of Rs. 10,000 towards a corpus fund for the welfare of AIDS patients in the year 1995. This was a period when the prevalence of HIV epidemic was high in the southern regions of India and, consequently, Philip Remban mooted the idea of building an institution in Karnataka where AIDS was rampant (Recent data of 2015 shows that the highest HIV prevalence among Indian States was recorded in Nagaland (0.88%), followed by Mizoram (0.68%), Manipur (0.64%), Andhra Pradesh (0.59%), and Karnataka (0.53%); Tumkur district had an estimated 9000 HIV-infected population). During the process of scouting for a suitable location and land, K.K. Mathukutty Vaidyan of Jalahalli, an ardent follower of the principles of H G Mar Osthathios, offered 10 acres of land in Vanigere village in Kunigal to the Malankara Orthodox Church Mission Board for a sum of Rs. 25 lakhs (a paltry amount even in those times) in the year 2002, before handing over Mr. Mathew Kutty Vaidhyan even constructed a small structure at the land to facilitate and initiate the activities. Fr. Jinesh K Varkey was deputed by HG Mar Osthathios Metropolitan to Kunigal in Karnataka State and started his activities in the year 2003 with just 4 kids.
By June 15, 2003 the number has increased to 12 infected and affected children. Today, Dayabhavan rehabilitates 72 inmates of various ages from above 6 years at our Home of Compassion and 25 kids of 0-6 years at our special infant care center and serves as a grass root organization in the areas of health, education, and community service in Vanigere Village of Kunigal Taluk in Tumkur District of Karnataka State. All inmates are encouraged to enroll in formative schooling and in professional courses to enable them pursue employment opportunities to support themselves and their families.
The organization also operates two hospitals: the first one (Dayasparsha Hospital) is located at Tumkur and is exclusively devoted to HIV/AIDS and TB patients, the only one of its kind in Tumkur and adjoining districts. It regularly conducts awareness programs in the rural areas of the district and liaises with several healthcare and government organizations such as National AIDS Control Organization (NACO), Revised National Tuberculosis Control programs (RNTCP), Karnataka Health Promotion Trust (KHPT), Karnataka State AIDS Prevention Society (KSAPS), Catholic Health Association of India (CHAI) and Mother Teresa Children's Foundation (MTCF). Central Adoption Resource Authority, under WCD of Govt. of India, State Adoption Resource Authority, under WCD of Govt. of Karnataka. The other hospital, Dayabhavan Medical Mission Hospital is located in the same campus of Dayabhavan Children Home and serves village patients at a nominal cost.
Dayavarsha Community Service Center started in the year 2016 at Hebbur Grama Panchayath 10 KM away from Dayabhavan with aim of empowering the women folk and allied community services.
Dayakirana Specialized infant care center was started in the year 2018 at Dayabhavan premises for the abandoned, surrendered and orphan kids.
With an endeavour to enrich the lives of all elderly citizens with happiness, affection, and care and undertake to provide each one with medical support and human kindness in their late years, we have started a palliative and geriatric care center at our Kunigal premises in the year 2020.